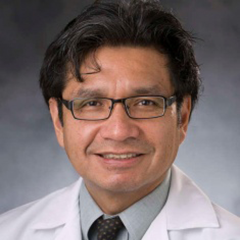 Richard D. LOPEZ, MD
Associate Professor of Medicine Cell Therapy and Hematologic Malignancies Specialist. General Oncology.
Dr. Richard D. Lopez is Associate Professor of Medicine at the Department of Medicine, Division of Hematologic Malignancies and Cellular Therapy (Adult Bone Marrow Transplantation), at Duke University, Durham, North Carolina, USA.
Dr. Lopez received his medical degree from Stanford University School of Medicine and studied Biological Sciences at Stanford University in California. He worked first as a Clinical Fellow in Medical Oncology, then as Clinical and Research Fellow in Bone Marrow Transplantation at the Department of Medicine in Stanford.
His major research and clinical interests are:
- Experimental Immunotherapy: Development of animal models to examine how the innate anti-tumor properties γδ-T cells can be exploited for cancer adoptive cellular immunotherapy.
- Experimental Clinical Immunotherapy: Development of corresponding human models (clinical trials) intended to introduce allogeneic human Vδ2 γδ-T cells as a form of cellular therapy for a variety of malignant or infectious diseases.
- Experimental Clinical Hematopoietic Stem Cell Transplantation: Adapting allogeneic hematopoietic stem cell (HSC) transplantation for use as a clinical platform for the experimental cell-based immunotherapies.
Dr. Lopez founded PhosphoGam Inc. in Durham and holds the position as Chief Executive Officer.
Back