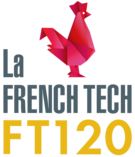 The French Tech revealed on January 20th the 83 most promising French startups for 2020 and ImCheck Therapeutics is among the 8 selected biotechs in this first promotion of the FT 120 program.
Among 300 promising French start-ups candidates, ImCheck Therapeutics was selected for its strong potential, both for its €48M capital raising in December 2019 and for its hypergrowth potential (more than 25% CAGR over three years).
This support program, set up by the government and officially launched in September 2019 by the French President and the Prime Minister, will allow ImCheck Therapeutics to take advantage of many levers to become "a world-class leader".
See the major media coverage on the subject :
Le Figaro https://lnkd.in/ghV9k3W
Industrie Pharma https://lnkd.in/e54T_zP