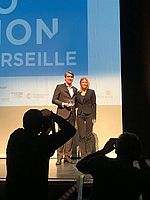 ImCheck Therapeutics awarded Innovation Start-up of the Year in Healthcare at the Aix-Marseille Innovation awards.
The inaugural « Aix-Marseille Innovation awards», sponsored through the collaboration of the Aix Marseille University, Aix-Marseille French Tech, Protisvalor and the SATT Sud-Est (French national technology transfer accelerator of the South-East), recognize outstanding efforts in advancing academic innovation toward commercialization. ImCheck was selected from a range of early-staged life science companies in the South-East region of France based on its rapid progress in bringing new discoveries in cancer immunology research toward clinical evaluation.
The Trophy was received by Pierre d'Epenoux, Chief Executive Officer of ImCheck, given by Stéphanie Cornen, representing Innate Pharma, the 20 years old prestigious Biotech in Immuno-oncology from Aix-Marseille territory.